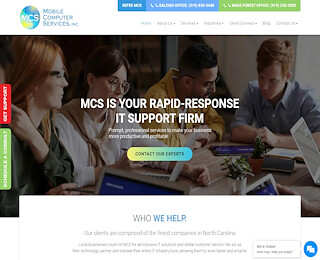 Mobile Computer Services works with small, medium, and large companies that need help with their business technology. We provide a wide range of services from consulting with companies to build apps to helping companies transition from paper-based to digital systems and everything in-between; Mobile Computer Systems does it all! We wear multiple hats at Mobile Computer Services, and we have technicians who are experts in a variety of areas concerning IT. That's why companies choose us for IT consulting in Raleigh, NC.
A great IT consultant helps his or her clients to take proactive steps to keep their IT working in tip-top condition. If a client contacts us when they are changing or upgrading their IT infrastructure, we can advise them regarding which equipment and software are best for them.
What is IT Consulting?
A consultant is an expert in his or her field - whatever that field may be. We help businesses, corporations, and organizations resolve their IT needs, which can cripple an organization if not handled properly. IT is a very broad and extremely complex field, so having a consultant when you need one can be a lifesaver! This is what Mobile Computer Services does for our clients.
For a fee that is much smaller than what you would pay to hire even just one in-house IT expert, you could have our services monthly. Plus, Mobile Computer Services offers lots of different pricing options.
Choose Mobile Computer Services for IT Consulting in Raleigh, NC
Our consultants are expertly trained and learned in a number of areas, so we can help you when you need it most. For example, if your computer system is having a problem, then we can troubleshoot it for you and get your problem fixed right away. Because we offer managed IT services, we can manage our clients' IT systems from a NOC where we proactively monitor their systems 24/7 for little glitches and fix them before they become problems.
The Need for an IT Consultant in Raleigh, NC
Today, it doesn't matter what kind of business or industry you are in. Technology will play an important role in it. While technology has worked wonders for small and medium-sized businesses, allowing them to compete with large corporations that they previously never would have had a chance to contend with, businesses are experiencing more and more IT failures as technology evolves. In some instances, these failures can have catastrophic consequences!
Just think about it for a moment; what would you do if your server crashed in your office? What would you do if your entire network went down? You'd probably frantically search for a company that could provide you with the tech support that you need, only to find that it may be several days before a technician can get to yoru place. When you partner with Mobile Computer Services for IT consulting, we're on the job before you call! That is why Raleigh companies trust Mobile Computer Services.
It Consulting Raleigh Nc
Mobile Computer Services, Inc.
9198309448
8009 Creedmoor Rd Ste 200
Raleigh
NC
27613
View Larger Map